Posted on Mar 24 2009 | Filed in: Metro Manila, Pasig City
**** CODE ****
Lunatala Valle Verde is a 77-unit residential townhouse development located along Firefly Street, inside Valle Verde 6-A. It is bounded by two major road arteries, the Ortigas Avenue and the Green Meadows Avenue in the midst of the more established residential subdivisions of Pasig City.
The property is near various educational establishments such as the University of Asia & the Pacific (UA&P), St. Pedro Poveda College, St. Paul's College, Brent International School and other pre-schools in the Valle Verde & Green Meadows area.
It is a mere 10-minute drive to Ortigas Center, one of the biggest the Commercial Business District in the Philippines today, where big local and international businesses have established their head offices such as the Asian Development Bank (ADB), San Miguel Corporation, The Philippine Stock Exchange, Meralco, Jollibee Group of Companies and numerous international companies in the outsourcing business in the Philippines.
At the same time, one has access to various shopping, dining and recreation centers such as the Tiendesitas, SM Hypermarket, Fun Ranch and the Auto Mall all found inside Frontera Verde, SM Mega Mall, Robinson's Galleria, The Podium and the Edsa Shangrila Mall.
Should one need to consult a doctor and other medical emergencies, it will only take 5-minutes from one's home to reach the newly opened New Medical City Hospital along Ortigas Avenue.
Themed Residential Oasis and Enclave
Envisioned to be an enclave, a cozy low density community, the development will cater to the discriminating taste of the upper middle income market within the Mandaluyong, Pasig and Ortigas areas. The contemporary Asian architecture will bring about straight and simple lines, modern yet classic, at the same time set to appeal to both expatriates and young urbanites looking for a great place to start and raise a family.
A well-designed entrance gate complemented by landscaped pocket parks and gardens welcomes residents as they enter the project. The whole property is secured by a high walled concrete perimeter fence with a guardhouse at the entrance of the main road. Roads are 6-8 meters wide with sidewalks of 1-1.5 meters.
Unique Product Offering
The community is divided into three clusters, and will be offering two types of townhouse units – each featuring a unique floor plan that offers generous space allocations that is both flexible and expandable as the family grows – the Classic and the Podium models. Both types are between 181 to 232 square meters with 3-4 bedrooms units, a toilet and bath, a powder room, a kitchen, a maid's room, living, dining and laundry areas, a pocket interior garden and a carport that can accommodate two to three cars.
Podium Model
The first of its kind in the Philippines, as the name suggests, the unique feature of this cluster of townhouses is the "podium". A podium will be built above ground and will provide an additional entry to the townhouse units exclusively for human traffic. This unique feature doubles up as a safe playground for babies and toddlers alike. It will be accented by pocket gardens to create a natural ambience perfect for community activities.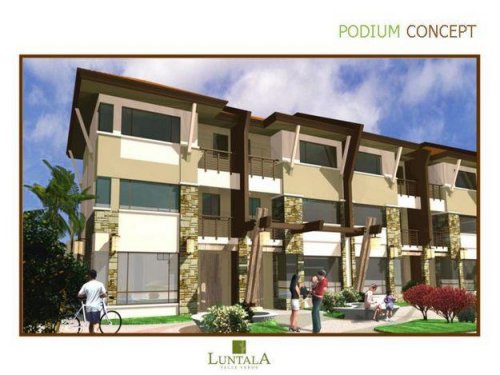 The podium also provides a private entrance for cars and members of the family through the ground parking below.
Found in Blocks 5 to 9, this unique 4-level model features an expansive master's suite with its own walk-in closet and T&B that occupies one whole level of the unit, two (2) bedrooms, a common T&B, living & dining rooms, kitchen, powder room for guests, pocket garden, maid's room with T&B, laundry cum service area, two (2) car garage and expansion areas. The total floor area of the unit ranges from 201 to 208 square meters.
So if you're looking for a Pasig condo that's in the P12 million to P14 million range, with 2 years at zero percent interest or 15 years with bank financing, then check out Luntala Valle Verde today.
One Response to "Luntala Valle Verde, Ortigas"
on 30 Jun 2009 at 1:33 am 1 arnoldyambao said …




pls. update me with this site: luntala valle verde.pasig, eton emerald lofts, la montagna( camella homes ) white plain terraces, residential homes and lots. thanks.
Leave a Reply