Posted on Apr 22 2006 | Filed in: Antipolo City
**** CODE ****
Maia Alta is a property developed by CrownAsia (CrownAsia.com.ph) in Antipolo City.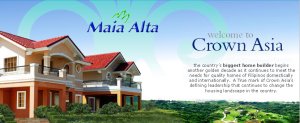 Maia Alta is ideally located near schools such as the University of the Philippines, Ateneo de Manila University, Assumption College and La Salle. It is also just a short ride away from malls such as Sta. Lucia and Robinson's Mall.
Maia Alta is home to golf lovers as it is surrounded by top golf courses in Antipolo — The Valley Golf and Country Club, East Ridge and Forest Hills.
You can fully enjoy the Clubhouse with swimming pool, basketball and tennis courts, playground, and park because Antipolo gives you fresh and clean air.
Maia Alta offers you five house models: Jade, Pearl, Sapphire, Emerald and Ruby. The floor area ranges from 64 sqm to 171 sqm, while the lot area ranges from 110 sqm to 150 sqm.
UPDATE: Maia Alta offers seven house models, with lot areas ranging from 88 sq. meters to 151 sq m. Here are those houses, along with their floor area and lot size, and estimated contract price (as of Jan. 18, 2007):
Amethyst (50 sq m / 88 sq m) PhP1.778 million
Jade SF (63 sq m / 88 sq m) PhP2.103 million
Jade SD (63 sq m / 110 sq m) PhP2.273 million
Pearl (79 sq m / 120 sq m) PhP2.922 million
Sapphire (95 sq m / 132 sq m) PhP3.297 million
Emerald (141 sq m / 132 sq m) PhP3.980 million
Ruby (171 sq m / 151 sq m) PhP4.642 million
You can get the latest info about Maia Alta over at Antipolo House and Lot online.
18 Responses to "Maia Alta, Antipolo"
Leave a Reply