Posted on Jan 29 2009 | Filed in: Metro Manila, Pasig City
**** CODE ****
The Grove by Rockwell is a 5.4 hectare residential enclave located along C5, in front of Tiendesitas (near Ortigas Avenue) in Pasig City. It offers affordable units ranging from traditional flats to bi-levels (think Z-Loft of Number One Rockwell). In addition, you will also find "Garden Units" which offer a welcome innovation among Pasig condominiums.
Here are some of the prices of the different units…
Flats
Studio (34 sq m) – P3.0 million to P3.3 million
1BR (43 sq m to 65 sq m) – P4.0 million to P5.9 million
2BR (74 sq m to 111 sq m) – P6.2 million to P10.8 million
3BR (97 sq m to 131 sq m) – P7.8 million to P11.96 million
Lofts / Z-Lofts
1BR L (56 sq m) – P5.4 million to P8.1 million
2BR L (84 sq m to 134 sq m) – P7.3 million to P11.96 million
2BR ZL (138 sq m) – P11.7 million to P12.6 million
3BR L (139 to 165 sq m) – P12.0 million to P14.7 million
The prices (which are subject to change without prior notice) are inclusive of 12% VAT, but are exclusive of parking. A parking slot costs PhP 672,000.
Dallas-based architect: Don Wilder
World-class landscape artist: Karl Princic

Please click on the Play button (right-pointing triangle, lower lefthand corner of the rectangle above) to view a slideshow of various photos of the 1BR model unit above (with den).

The Grove, 1BR Flat

The Grove, 2BR Z-Loft

The Grove, 3BR Flat

The Grove, 4BR Garden Unit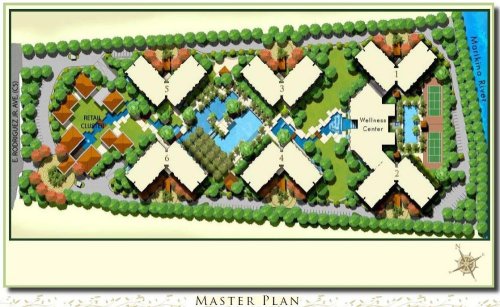 The Grove Master Plan

The Grove Location Map
For The Grove by Rockwell Inquiries:
Rockwell Drive corner Estrella Street
City of Makati 1200, Metro Manila
Or leave a comment below…
2 Responses to "The Grove by Rockwell"
on 26 May 2010 at 1:34 pm 1 Aimee said …




can you send me the computation for the 3BR flat preselling,preferabky installment payment for the DP. tnx

on 03 Oct 2011 at 11:46 pm 2 jhay cruz said …




imfo on 74sqm 2br what floor and when is the turn over and payment breakdown thank you
Leave a Reply