Posted on Jun 12 2006 | Filed in: Bataan
**** CODE ****
The Anvaya Cove Beach and Nature Club in Morong, Bataan is just 20 minutes away from the Subic Bay Freeport, whose popular attractions include the Zoobic Safari, Ocean Adventure, Extreme Adventure and El Kabayo, as well as a host of dining and shopping establishments.
Your children will enjoy meeting the most fascinating seacreatures in their seaside habitat, with the help of friendly Marine Rangers.
Satellite Map of Anvaya Cove

It is a 320 hectare property comprised of forested foothills rolling down from a backdrop of mountains to meet the sea. At the heart is the Beach and Nature Club, which is surrounded by several neighborhoods for vacation and retirement homes.
These lots and houses are thoughtfully integrated with the landscape and capitalize on the site's natural beauty.
Ownership of a Beach and Nature Club share is a prerequisite for owning a real estate product.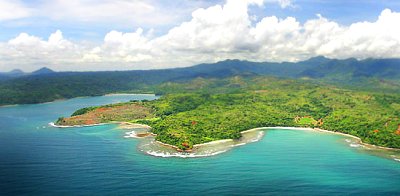 Anvaya Cove is a seaside leisure community developed by Ayala Land Premier. Imagine building your own vacation home right in the middle of stunning sea views or verdant forests. Or you can even choose to go for the Anvaya luxury villa which comes with your own private pool.
This is a joint development project of Ayala Land, Inc. and SUDECO.
For purchase inquiries on villas, lots, and club shares
Please call +63.2.7287000 or +63.2.8923333
Visit http://www.anvayacove.com
Got the following info from:
Stella Mari G. Ama
Sales Manager
Subic Bay Development & Industrial Estate Corporation (SUDECO)
8th Floor Vernida IV Building
128 L.P. Leviste St., Salcedo Village
Makati City, Philippines 1227
Tel +63.2.8930631, 8930633
Fax +63.2.8942225
Mobile +63.917.8446230
The Main Pavilion houses the Bamboo Cafe, Sambali Music Lounge, Wine Room, and Library Lounge.

The Beach and Nature Club's Pool is large enough to be a small lake. In fact, you'll feel like you're taking a dip in the ocean because the pool has an open, panoramic view of the seascape.

At the Seahorse Kiddie Village, you can check your kids in the Beach and Nature Club's daycare. Your children will have fun in the Kiddy Pool, Children's Arts and Activity Play Center, and Children's Indoor and Outdoor Play Zones.

With the Veda Spa, you can experience profound peace and well-being. Veda means divine knowledge or wisdom in Sanskrit. Find tranquility in the Main Spa Pavilion and the Beach Massage Salas.

With a 1.2 km stretch of fine, powdery sand, the Beach will take your breath away. Calm, crystalline water with a gently sloping sea bottom. It has a clear, sandy swimming area in the cove's expansive center, with intricate rock formations at the cove's edges harboring interesting marine life.

At the beach you'll find the Pawikan Bar and Grill, Game Room, Beach Cabanas, and a Lookout Tower and Tower Bar which offers fantastic views of the sea and mountains.

Anvaya Cove also offers you The Great Lawn where you can enjoy a game of soccer, softball or Frisbee, fly kites and RC planes, or have a huge outdoor gathering.

For extended stays at the Club, you and your guests can stay in the Lagoon Suites. These elegant accommodations range from 1 to 3 bedrooms, and have great views of the Lagoon, Main Pavilion, and Great Lawn.

The Lagoon is fed by a natural creek and is home to fish, ducks and freshwater turtles. It is also the venue for many recreational activities such as fishing, canoeing and racing remote controlled boats.

Discover nature and yourself at the Nature Camp where you can rought it out with the camp rangers, live a bit on the wild side, and come out an entirely enlightened person.

Ziplines – Imagine the rush of jumping from a tree platform 40 feet above the ground, your body harnessed to a cable, and swinging through the air to a tower 50 meters away.
Ropes Course – Test your coordination, strategic thinking and courage. Swing, balance and even screm your way through this unique obstacle course composed of ropes, trees, and heights.
Ecological Trails – Go walking, trekking or mountain biking in these scenic nature paths.
Camping and Picnic Grounds – It's your choice: hardcore roughing it or a bit pampered? Teach the kids to pitch their own tent or have a ranger set up camp so you can concentrate on your ghost stories.
Nature Playground – Let the children appreciate and understand the natural world through displays, models, and toys.
Kiddy Obstacle Course – For older kids to develop speed, coordination and agility.
Open Air Amphitheater – Watch shows and attend large functions at this spacious outdoor venue, au naturel.

At the Watersports Pavilion, you can enjoy scuba diving, jet-skiing, deep sea fishing, windsurfing, and even kayaking.

Disclaimer: The particulars, details, visuals, descriptions are based on the vision of the developer for the project and are only intended to give a general idea of the project. While such particulars, details, visuals and descriptions have been prepared with utmost care and given in good faith, these are not to be relied upon as statements of fact and buyers are invited to verify their factual correctness and subsequent changes thereto, if any. The contents herein are subject to change without prior notice and not constitute part of an offer or contract.

HLURB License to Sell Nos: 12469, 13414, 13440. SEC Registration Order No. 067, Series of 2005.
11 Responses to "Anvaya Cove Beach and Nature Club"
Leave a Reply